Published by Linda on 21 May 2009
My flight to the US took me through Panama and a horribly cold overnighter at Miami airport – shiver!! It's a funny thing to say but I think arriving into the states was the biggest culture shock this whole year. It's so uptight and security conscious, I constantly felt guilty or as if I was doing something wrong even in total innocence!! It was very strange to have access to anything you needed, sooooo much choice, god I even struggled with flushing the toilet paper – well it's been a while!!
So I finally arrived in Chicago, checked into the hotel and finally got an hour's sleep. My cousin Nader arrived a couple of hours later and we checked out Chicago's Navy Pier for lunch and a catch up.
It was great meeting Nader as we pretty much wanted to see the same things in the city and then we would both fly to Louisville for Julie and Eric's wedding. Next day we headed for the Art Institute where I was dying to see George Seurat's A Sunday Afternoon on the Island of La Grande Jatte which looks like this……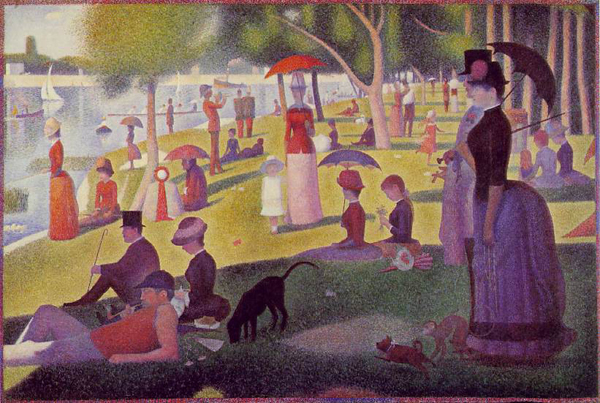 ……have had a fascination with this painting for ages and it's displayed so that your first view is facing it from a corridor and you walk towards it. Couldn't stop staring at it. Of course I know nothing at all about art so Nader gave me loads of info and for any art buffs out there, this museum is a must!!
After that we headed to Sears Tower to get a good old view of sunny (but COLD) Chicago. Great day for it as it was really clear and the lake just looked spectacular.
After that we attempted a little retail therapy which we didn't get too far with so we headed to see the bean in Millennium Park at sunset instead.
It's a nice park in the middle of everything, with ducks wandering around and off course The Bean. The bean is weird, you actually get a little dizzy standing under it

I'm not quite sure what exactly it's meant to be or what it means but it draws a crowd.
We finished off the evening with dinner and some Jazz (well you gotta, right?) Chicago is another big city but we were both impressed by pretty little places around……
……and I'm sure we would have found many more if there had been more time but we were off to Louisville, Kentucky.
I had been to Louisville for the Kentucky Derby a couple of years ago and had intended to do the same as the last stop of my travels. Then Eric and Julie announced they were getting married so it seemed like an even better excuse to roll in there for a few days. Quite a few on my mum's side made it over from Europe so it was set to be a great reunion. Weird thing was I was really, really nervous to see everyone. I drove Nader mad on the plane I reckon, read him the whole skymall magazine (i.e. useless items you will never need in your life but provide great entertainment)
So great to see my brother Johnny and my mum…….
…….and of course all the rest of the Louisville bunch. It's such a laid back place and these folks are so welcoming, good people y'all

So we had a few days of catching up, sessions, sing songs, being fed within an inch of our lives(!) and of course the wedding.
It was a great opportunity for a reunion and as we get older that will become more and more difficult to get us all in the same room…..
……. so we made the most of it. Last time one of these photos was taken, my grandmother was alive and I was about 5 years old I reckon!! Also got to meet some new additions to the family, baby Emily and Maire's husband Hywel, I missed their wedding last October. Got to meet Brian's girlfriend, Susan and David's girlfriend Erin, who make great additions to the clan.
I feel like I should mention everyone because it felt great to be there. Jim and Madeleine are not only FANTASTIC dancers……
…….but are great entertainers and cooks too. Since I got my invite to the wedding, I've been dreaming about Jim's fan-feckin-tastic omlettes, every time I made an omlette during the breakfast rush in the hotel in Darwin, I'd think How does Jim make his soooo good. Still can't say for sure but hell it was worth the wait!!! Mmmmmmmm

The rehearsal dinner went off well and unusually the speeches are done this night which is all good as everyone can relax and enjoy the wedding the following day. Afterwards a crew of us headed off to a Karokee bar, which was hilarious and scary in a kinda American Idol deluded auditionees sort of way

Brian and Don sang a couple of songs before we couldn't take it any more and ran scared from the place!
The following day we peeled ourselves off the beds and hauled our asses to the church to see Eric and Julie tie the knot.
Have to mention that it was really weird to get this dressed up after a uniform of shorts and flip flops for so long, a dress and HEELS were definitely a little strange!! Anyhoo it was a beautiful service and the weather behaved itself which was all good. Lovely reception, food and band so all in all a great day. And as if that wasn't enough, we rounded off the celebrations with an outstanding brunch (dispite feeling ever so slightly "delicate") the following day.
Outside of that we just hung out at Brian's and spent time together, so good to spend time with my big bro again. (you know what Madeleine, I think you're right, I seem to have shrunk!! What the hell….)
Nader, David and Don entertained us with singing and playing the guitars (putting the rest of us to shame) and it was great to just chill out……
don't we look real southern??

Think it might be the banjo Dave!!! And of course we had the usual laughs, largely provided by Don, who I think could possibly be the funniest person I know.
Hope you got one of those ties to bring home Don. Gotta say a big thanks to Dave who donated his soooooo comfortable bed to me for the duration of my stay, and amazing to hear some of his album which should be finished by the end of the summer. Come on Davie, hurry up!! Also big thanks to Brian for use of his house as the battleground for many a great night. Lastly, just a big thank you to the Louisville gang in general for making this the best possible end to a great trip, even if I did take the long way getting there

 I can't think of a better way to round up a fantastic journey.
And so after just over a year, I packed my rucksack one last time and headed to catch the red-eye home. 
Apart from the inevitable last blog, which is in the making, Lindybear's travels are all but over – sniff :-(Still though I'm looking forward to seeing everyone and to the Irish summer which I'm sure is going to be in full swing……)
More photos on http://www.flickr.com/photos/lindybear/sets/72157618288776419/  http://www.flickr.com/photos/lindybear/sets/72157618503598150/